Founding Director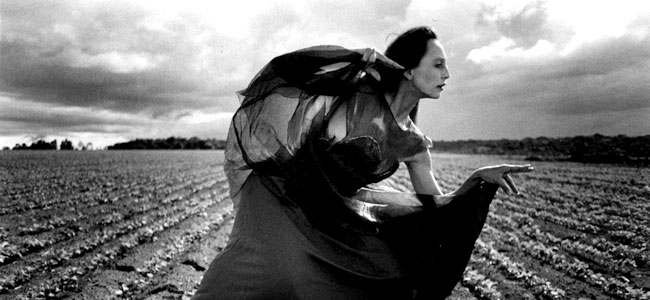 Photo: Raphael Mendes | Maura Baiocchi in a Photoenvironmentperformance Isadora Duncan and the bull
Founding-director of Taanteatro Company, and creator of taanteatro (choreographic theater of tensions). and author of several books about her approach to performing arts. Baiochi developed an international career in Brazil, Argentina, Belgium, France, Germany, Great Britain, Japan, Mozambique, Russia, and the United States. Baiocchi is also a pioneer of butoh dance in Brazil.
MA – Communication and Semitotics (Pontifical Catholic University of São Paulo – PUC)
Aside from her work as a soloist and as director of Taanteatro Company, Baiocchi lectured at the performing arts department of the National University of Brasilia and at Dulcina Faculty,DF. Maura Baiocchi also acted in movies and short movies by directos like Marta Nassar, Joel Yamagi, Walter Rogério, Christian Saghaard, and Paloma Rocha.
Backround
In the seventies and early eighties Maura studies classical ballet, jazz, modern dance and theater in Brasília.  She creates and directs a number of performance groups: Naked Photographer, Weird Body and Weather Report and she collaborates with choreographers and directors like Hugo Rodas, Regina Miranda, Ary Pararaios and Yara de Cunto. Between 1984 and 1986 Maura teaches performing arts at the University of Brasília and at Dulcina University. In 1987 she lives in Japan and studies butoh with Kazuo Ohno and Min Tanaka becoming a pioneer of butoh in Brazil. In 1989 Maura works and studies in Germany. Between 1987 and 1991 she developes a vast solo repertoire. Invited by the director of the Center of Theatric Research | SESC, Antunes Filho, Maura moves to São Paulo in 1990. In the following year she leaves the center and concentrates on her own research being awarded the 1991/92 VITAE Fellowship of Performing Arts for her project "Taanteatro: a research for the transformation of dance".Today Taanteatro is established as onde of the major brazilian dance-theater companies of Brazil.
Further information on Maura Baiocchi's career click here

Publications (written in Portuguese)
Taanteatro – [Des]construção e Esquizopresença – Transcultura – 2016
Taanteatro – MAE – Mandala de Energia Corporal – SP -Trancultura – 2013
Taanteatro – rito de passagem – SP – Transcultura – 2011
Taanteatro – teatro coreográfico de tensões – Azougue Editorial – RJ – 2007
Taanteatro Caderno 1 – Editora Transcultura – SP – 1997
Butoh – Dança Veredas D'Alma – Editora Palas Athena – SP – 1995

Awards
APCA AWARD (Indicated) – Choreography | São Paulo | 2017
Municipal Program for Dance | São Paulo | 2016
Municipal Program for Dance | São Paulo | 2014
Municipal Program for Dance | São Paulo | 2011
Municipal Program for Dance | São Paulo | 2009
Klauss Vianna Dance Award | National Foundation of Arts | 2009
Municipal Program for Dance | São Paulo | 2007
Klauss Vianna Dance Award | National Foundation of Arts | 2006/07
Municipal Award for Contemporary Dance | São Paulo | 2004
Best Actress | 3rd Cinema Festival of Recife  | 1998
Best Wardrobe | Sorocaba Theater Festival  | 1997
Best Actress | Cinema and Video Festival of Maranhão | 1992
VITAE Fellowship for Performing Arts | 1991/92
Best Stageplay choreography | Crowne Plaza Award  SP |1991
Best Stageplay | Critics Award of the Federal District  | 1988
Best Foreign Performance | HINOEMATA Performance Festival  | Japan | 1987
WORKS
SOLO WORKS

2016 ARTAUD, LE MÔMO – Theater Aliança Francesa – São Paulo – Brazil
2014 TRANS – Freud Museum of Dreams – Saint Petersburg – Russia
2009 DAN ancestral becoming – Centro Cultural Banco do Brasil – Brasília
2002 SUBMERGE – Chashama Theater – New York City/EUA
2002 Webshaman – mandala dance of the ancestral body
2000 Matter State of Potency – Instituto Goethe – São Paulo
1999 Matter 3rd form – Teatro FUNDAJ – Recife
1999 Matter 2nd form – Strasbourg/França
1999 Matter 1st form – Theater Plan B – Tokyo/Japan
1998 Matter 1st form – Goethe Institute -São Paulo
1991 Frida Kahlo – a stone woman gives birth to the night – Teatro Tuca – São Paulo
1990 Absolutes – Teatro Crowne Plaza – São Paulo
1990 Ophelia Subtraction – Teatro Crowne Plaza – São Paulo
1990 Himalaya – Teatro Crowne Plaza – São Paulo
1990 Behring Strait – Teatro Crowne Plaza – São Paulo
1990 The bride frightened at seeing life opened
1989 The day the wall fell
1988 Variation in black – National Theater of Brasília
1988 Variation in white – National Theater of Brasília
1988 Brasília bride
1988 Isadora Duncan and the bull, Marta Graham in the forest and Pina Bausch sleeping
1988 When the butterflies get lost – transparent dances – National Theater of Brasília
1987 Spiral line – Gallery Space- Tóquio/Japão
1987 Voice phrase – Theater Seibu 200 – Tóquio/Japão
1987 Between the sword and the wall – Hinoemata Festival /Japão
1987 Three daughters and a water-eye: Yemoja, Oya and Oshum – Therpiscore Theater – Tóquio/Japão
1985 Outsider
1985 Spiral line – Sala Saltimbancos – Brasília
1985 Radical solitude
1985 Critical point
1985 Spiral – UnB – Brasília
1984 The gift of the butterfly
1984 Water-eye – Cultura Inglesa – Brasília
1983 The owner of the keys
1981 Candomblé – School of Music – Brasília

GROUP WORKS
2017 1001 PLATEAUX – Theater Aliança Francesa (direction of choreography) – São Paulo
2017 Desert…
2017 Verbing
2016 InBetweens – SP Escola – São Paulo
2015 cARTAUDgraphy – O Lugar – São Paulo 

2015 cARTAUDgraphy 1: A Correspondence
2015 cARTAUDgraphy 2: Voyage to Mexico
2015 cARTAUDgraphy 3: Return of the Momo
2013 Androgyne – consecration of fire
2012 [Im]Pure Dances – Galeria Olido -São Paulo

2009 !Zaratustra! – Teatro da Caixa – Brasília
2007 Frida Kahlo – a stone woman gives birth to the night (trio) – Galeria Olido -São Paulo
2007 New presences – Galeria Olido -São Paulo
2007 The loneliest hour – urban intervention– São Paul
2006 Feifei and the origin of love – Teatro João Caetano – São Paulo 
2006 Zarathustra Machine – Teatro João Caetano – São Paulo
2005 Xiphamanine – Cine-Teatro Áfr – Maputo, Mozambique
2004 Cardioconnections – Teatro Sesi – São Paulo
2004 Premonitary Performances – Galeria do Vidro – São Paulo
2004 Matter 4th State – Kuba Vegesack – Bremen/Germany
2004 Matter State of Potency– Galeria Olido -São Paulo
2001 Thus spoke Zarathustra 4th part – Funarte – São Paulo
2001 Frida Kahlo – a stone woman gives birth to the night (duo) – Funarte – São Paulo
2000 MatterDeath – Sala de las Americas – Córdoba, Argentina
2000 Matter – state of potency – São Paulo
1999 MatterLove – MIS – São Paulo
1999 Chants of Maldoror – Funarte – São Paulo
1997 !Arará! Stories that the bones sing – Teatro Hilton – São Paulo
1996 Artaud – where god runs with eyes of a blind woman – Teatro MASP – São Paulo
1996 I: a chips opera – New Dance Studio – São Paulo
1995 Month of Maya (urban intervention)
1994 Variation for ball, Shiva and Magdalene -Teatro Sesi – Sorocaba
1992 Alice's book of the dead – transitional dances – Teatro SESC Pompeii – São Paulo
1993 At the foot of the mountain – Memorial da America Latina
1993 Variation for ball and Shiva
1991 Month of Maya (Mês de Maya)
1991 The square laughing – Teatro SESC Pompeii – São Paulo
1991 The terrible – urban intervention
1990 The bride frightened at seeing life opened – Teatro Vento Forte – São Paulo
1988 When the butterflies get lost – transparent dances (duo) – National Theater fo Brasilia
1986 Du- El (2nd version) – National Theater fo Brasilia
1986 Invisible connection – National Theater fo Brasilia
1986 Nostalgia tradition – National Theater fo Brasilia
1986 Connection and disconnection – - National Theater fo Brasilia
1984 Duo
1984 Cristovam my love or to create desire
1985 Du-El (1st version)
1985 Static-Extatic
1982 Boomerang – National Theater fo Brasilia
1981 Chaplinlewisniana – National Theater fo Brasilia
1981 Earth – National Theater of Brasilia