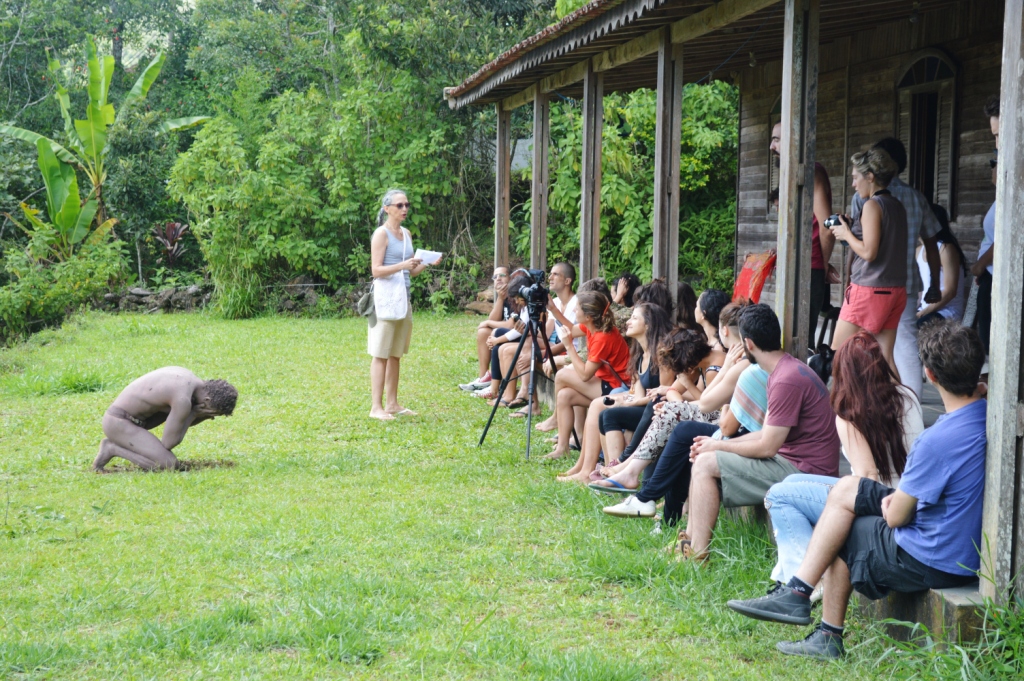 TAANTEATRO RESIDENCE WORKSHOP – TTOR 2019
Forces & Forms
February 17 to March 3 to 2019
Coordination: Maura Baiocchi and Wolfgang Pannek
Assistant: Mônica Cristina Bernardes
Taanteatro Companhia opens again its rural headquarters in São Lourenço da Serra (SP / Brazil) offering a creative immersion program that introduces to the practices and concepts of taanteatro (choreographic theater of tensions).
The TTOR 2019 is destined to dancers, actors, directors, performers and professionals and students from other areas of knowledge interested in an intense work of rescue, expansion and realization of their scenic presence and their expressive potential. The residence includes the creation of a solo based on the method [des]construction of performance based on [trans]personal mythology.
Organized annually since 2001 TTOR received artists from Argentina, Australia, Brazil, Costa Rica, Ecuador, France and Germany.
The Taanteatro Company, founded in 1991 and considered "one of the most radical, refined and demanding schools of contemporary theater", was awarded several times at the municipal, state and federal levels. It staged about sixty authorial shows around the work of artists, poets and philosophers like Frida Kahlo, Lewis Carol, Lautréamont, Nietzsche, Artaud, Deleuze, among many. Since 2007, the company shared its research publishing books about its concepts, training ad creation methods.
Period: February 17 to March 03, 2019
Arrival: Februar17, 2019
Departure: March 3, 2019
Working Hours: 110 hours
Lodging: In 2 houses. Rooms for 2 to 3 people.
Food: 3 meals a day.
Fee: US$ 1.000,00
Registration: send e-mail with Letter of Intent and Curriculum Vitae to
taanteatro@hotmail.com
Taanteatro dynamics:
Practical-creative approaches:
MAE (Body Energy Mandala), Effort, Walking, Rite of the shaman, (Des)construction of performance, Butoh Dance, Skeleton-self-massage.
Theoretical-creative approaches:
Tensions, In-between, Pentamusculature, Schizopresence, Eternal Origination, [Trans]personak Mythology.
Bibliography:
Taanteatro: Teatro Coreográfico de Tensões (also available in Spanish), 2007.
Taanteatro: Rito de Passagem, 2011.
Taanteatro: MAE – Body Energy Mandala, 2013.
Taanteatro: [Des] Construction & Schizopresence, 2016.
Taanteatro: Forces & Forms, 2018.
PRESS:
CARTA CAMPINAS
Clichetes
www.taanteatro.com